Slavoj Žižek & Pussy Riot's Nadezhda Tolokonnikova Exchange An Extraordinary Series of Letters
: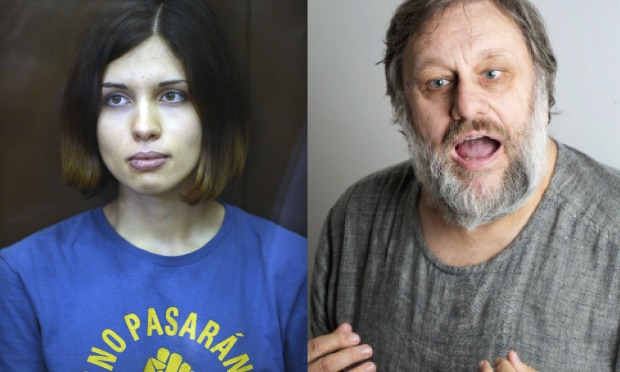 Missing for almost a month, imprisoned Pussy Riot member Nadezhda Tolokonnikova has
been reported by her husband
as recovering in a Siberian hospital from issues related to her hunger strike. As
The Guardian reports
, Tolokonnikova didn't only resist by refusing to eat, she also kept up a
lively correspondence
with Slovenian theorist Slavoj Žižek while enduring reported abuse at the penal colony in Mordovia where she had been sentenced. It seems from the edited correspondence published by
The Guardian
that Žižek began the conversation in early January. "All hearts were beating for you" he writes, until "it became clear that you rejected global capitalism." In a later, April 16 reply, Tolokonnikova explains exactly what Pussy Riot rejects:
As a child I wanted to go into advertising. I had a love affair with the advertising industry. And this is why I am in a position to judge its merits. The anti-hierarchical structures and rhizomes of late capitalism are its successful ad campaign. Modern capitalism has to manifest itself as flexible and even eccentric. Everything is geared towards gripping the emotion of the consumer. Modern capitalism seeks to assure us that it operates according to the principles of free creativity, endless development and diversity. It glosses over its other side in order to hide the reality that millions of people are enslaved by an all-powerful and fantastically stable norm of production. We want to reveal this lie.
Read the
full published exchange
at
The Guardian
's site. Below, see the charismatic Tolokonnikova in the BBC documentary
Pussy Riot: A Punk Prayer
.
Related Content:
Fear of a Female Planet: Kim Gordon (Sonic Youth) on Why Russia and the US Need a Pussy Riot
Russian Punk Band, Sentenced to Two Years in Prison for Deriding Putin, Releases New Single
Slavoj Žižek Demystifies the Gangnam Style Phenomenon
Josh Jones is a writer and musician based in Durham, NC. Follow him at @jdmagness
Slavoj Žižek & Pussy Riot's Nadezhda Tolokonnikova Exchange An Extraordinary Series of Letters
is a post from:
Open Culture
. You can follow Open Culture on
Facebook
,
Twitter
,
Google Plus
and by
Email
.