The most polluted place in the world
: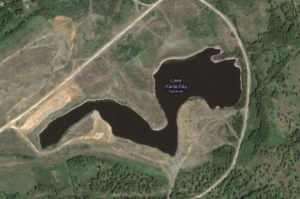 At Grist, Jess Zimmerman has an interesting piece about a lake near a notoriously leaky former Soviet nuclear research site, where the radiation level is so high that an hour on the beach can be enough to kill you.
You can't really blame Lake Karachay for acting up — it comes from a really rough area. The lake is located within the Mayak Production Association, one of the largest — and leakiest — nuclear facilities in Russia. The Russian government kept Mayak entirely secret until 1990, and it spent that period of invisibility mainly having nuclear meltdowns and dumping waste into the river. By the time Mayak's existence was officially acknowledged, there had been a 21 percent increase in cancer incidence, a 25 percent increase in birth defects, and a 41 percent increase in leukemia in the surrounding region of Chelyabinsk. The Techa river, which provided water to nearby villages, was so contaminated that up to 65 percent of locals fell ill with radiation sickness — which the doctors termed "special disease," because as long as the facility was secret, they weren't allowed to mention radiation in their diagnoses.
Read the rest at Grist